I checked the 'ol bloggy blog this morning to find out that I am being featured over at
All Things Thrifty.
How totally cool is that?! Brooke was kind enough to show off my
DIY wall art
that was originally inspired by
her
wall art
! I feel totally inspired to do even more! With a two and a half week old, though, some projects might have to wait a little longer. :)
Thanks Brooke!!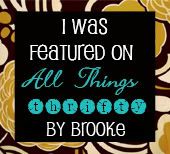 Here's the pic of the finished piece in case you forgot what it looked like. I'll post updated pictures of the space as soon as I can.